Indonesia-Saudi Arabia Sign Trade Cooperation Contract Worth Rp2,3 T
Selasa, 24 Januari 2023 - 16:20 WIB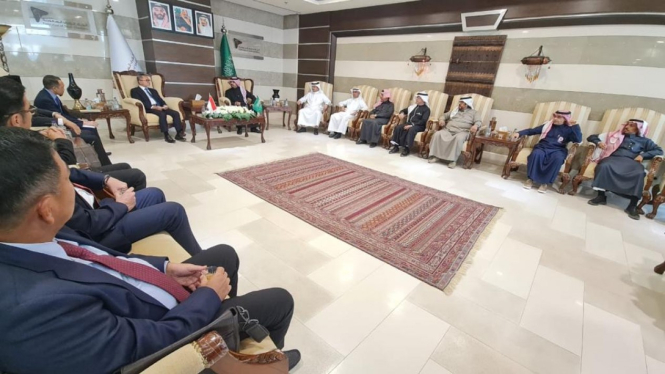 Pertemuan Kementerian Perdagangan RI dengan para Pengusaha di Arab Saudi
VIVA – The Indonesian Trade Minister, Zulkifli Hasan witnessed the signing of eight contracts between Indonesian businesses and five Saudi Arabian businesses with a contract value of more than US$155.7 million or around Rp2.3 trillion.
One of the signings was carried out by the Commercial Director of PT Perusahaan Perdagangan Indonesia (PPI), Andry Tanudjaja, and Said Bawazir Trading Company, which signed a cooperation on food products and MSME goods for distribution in Saudi Arabia.
The signing consisted of a trade contract, cooperation agreement, and memorandum of understanding (MoU), and took place on Monday, January 23, 2023, at the Saudi Chamber Federation Office in Jeddah, Saudi Arabia.
"I welcomed the signing of trade contract, cooperation agreement, and MoU between Indonesian businesses and Saudi Arabia businesses. It is hoped that the cooperation will continue with increasing trade value and more varied commodities," Minister Zulkifli said in a written statement.
Minister Zulfikar also said that Indonesian businesses will export several commodities to Saudi Arabia, including foods, RBD palm olein, cooking oil, processed fish products, meat, vegetables, and its processed derivatives, fruits, cacao, rice, spices, noodles, and charcoal.
Riyadh Trade Attaché, Gunawan added that this moment is expected to open opportunities for Indonesia to be increasingly recognized by the people of Saudi Arabia.
Halaman Selanjutnya
"We will continue to encourage more cooperation with Saudi Arabian businesses to increase non-oil and gas exports," he said.